This is one of our Brick Walls Help us Crack it if you can (See Bottom )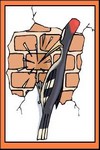 Daughter of :– Franz Joseph Zimmer and Ernstine Schremmer
Born:– Nieider Faulbrueck Germany
Year:– 1832?
Eldist of 13 Children:–
Maria, Johanna, Franz, Wilhelm, Johanna, Anton, Dominicus, Ernstine, Anna, Johann, Ermunde, Joseph,
Married :–
Carl Joseph August Stolz
Year:– 1877
Nieder Faulbrueck Silesia Germany ?
2 Children:–
Karl August Jnr. Stolz
Year:–1853
Nieder Faulbrueck Silesia Germany
August Carl Stolz
Year:– 1860
Reichenbach Silesia Germany
BRICK WALL ?????
Statically:– There has to be other children from this marriage whose records so far we have been unable to uncover.
We have also to date been unable to find Anna's death Certificate.
Does any of this sound familiar to YOU?????