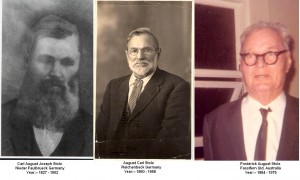 The Stolz Boys
Hec Stolz is the youngest of 3 boys born to Fred & Ida Stolz from Emerald in Queensland (Pictured Left to Right Uncle Hec, Uncle Percival or Percy as we knew him, and Leslie my Dad)
The Stolz Boys, as they were known, grew up on land selected 20 miles from Emerald in Centeral Queensland origionally known as Prickley Pear Blocks by their Grandfather and Father back in 1911 and the family still held land in the area until 1996.
As they grew their interest included Tennis, for which they won many regional prizes. It was not unusual for them to drive all day to enter a Tournament. The three were great friends with Len Laver, and, in later years, his son Rod who went on to be World Champion.
Uncle Percy and Uncle Hec also loved Music and had their own band back in the 60's, playing for local dances. Uncle Hec was still playing piano at the local Retirement Village until 3 years ago.
After the brothers married, they were each given their own section of the Family Property, but everyone still worked together as a team.
Agricultural records were broken and the family still hold the record for dry land farming of cotton with 2,240 lbs harvested to the acre.
The Stolz family were also well-known commercial citrus growers with their first orchard being planted in 1924 and produce was shipped all over Queensland.
Particia's family on the other hand left the land and became Law Enforcememt Officers and are well-known throughout Queensland.
I count myself as very fortunate to have known my Great Grandfather August, the boy who arrived in Australia with his family at the age of 17, and realize as I grow older how lucky we were to have our Grandparents live at home with our families as we grew up.
Patricia and I have had a wonderful start to our Family Research, thanks to our Family's pride in their German heritage, keeping every piece of paper since Great Grandfather and his family left Hamburg.
Shirley