PolishRoots covers all areas that were historically part of the Polish Commonwealth, from the 16th through the 18th centuries, throughout the years of partitions by Prussia, Russia, and Austria, through its rebirth in 1918
CzechoSlovak Genealogical Society Intl ( CGSI )
Welcome to the Czechoslovak Genealogical Society International (CGSI). Our purpose is to promote Czechoslovak genealogical research and interest among people with ancestry in the Czechoslovak region as it was in 1918, including families of Czech, Bohemian, Moravian, Slovak, German, Hungarian, Jewish, Rusyn, and Silesian origin.
Czech Republic Bohemia and Moravia Genealogical Research :–
The Czech, Bohemian, and Moravian Genealogical Research Page offers tools, resources, and information to help you search your Czech family history and ancestry. You will also find links to a wealth of information on the area now known as the Czech Republic. Stop at the What's New page to see latest changes to this site
Family History Library Catalog (Silesia)
Church history ,Church records – Bibliography, Civil registration, Colonization, Description and travel, Directories. Dwellings, Military records,
A genealogy side produced in Poland … It's in Polish and English.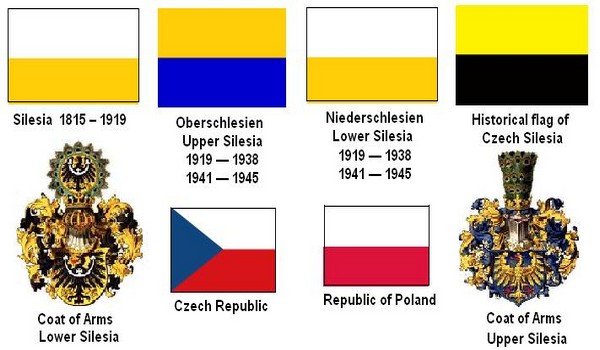 Polish Express Research Services:–
I began researching my own family history in 1992. In the years that followed, I have visited Poland over 23 times, written letters requesting documents from 6 different archives, and personally conducted research at archives in 4 different Polish sites. It has been a labor of love! My own family tree now extends back 11 generations, to about 1680! After several years of success and excitement researching my own roots, I decided to offer my knowledge and experience as a service to others – hence PolishExpress, Inc., an organization devoted to assisting people with uncovering their family history and background. In short, helping people to "find their roots." In particular, we offer these six services:
Records for 1909 and after: Vital records in Poland are recorded in each town's Civil Records Office (in Polish, "Urz?d Stanu Cywilnego", abbreviated "USC"), and those records less than 100 years old are generally still kept there. USCs are typically located in the City/Town Hall…….. Records for 1908 and before: Records older than 100 years are held at the various branches of the Polish State Archives. In July 2000, the Polish State Archives instituted a new system, specifying that requests for information or research are to be directed to the specific branch holding the records in question, rather than the main archive in Warsaw.
Silesian Genealogical Society of Wroclaw (in Polish)
I am sorry you will have to check this one out for yourself as I don't speak one word of Polish.
Prussian Emigration Records in Polish Archives:–
Prussia formerly included part of the lands which now belong to Poland. These are the former lands of Pomerania, West Prussia, East Prussia, Posen, and Silesia. Documents which were created in these lands (provinces) are a result of Prussian administrative regulations. They were usually kept according to the same rules and that is why their format, size and shape are very similar.
Poland Genealogy Research:–